Repost from ABOLISHmke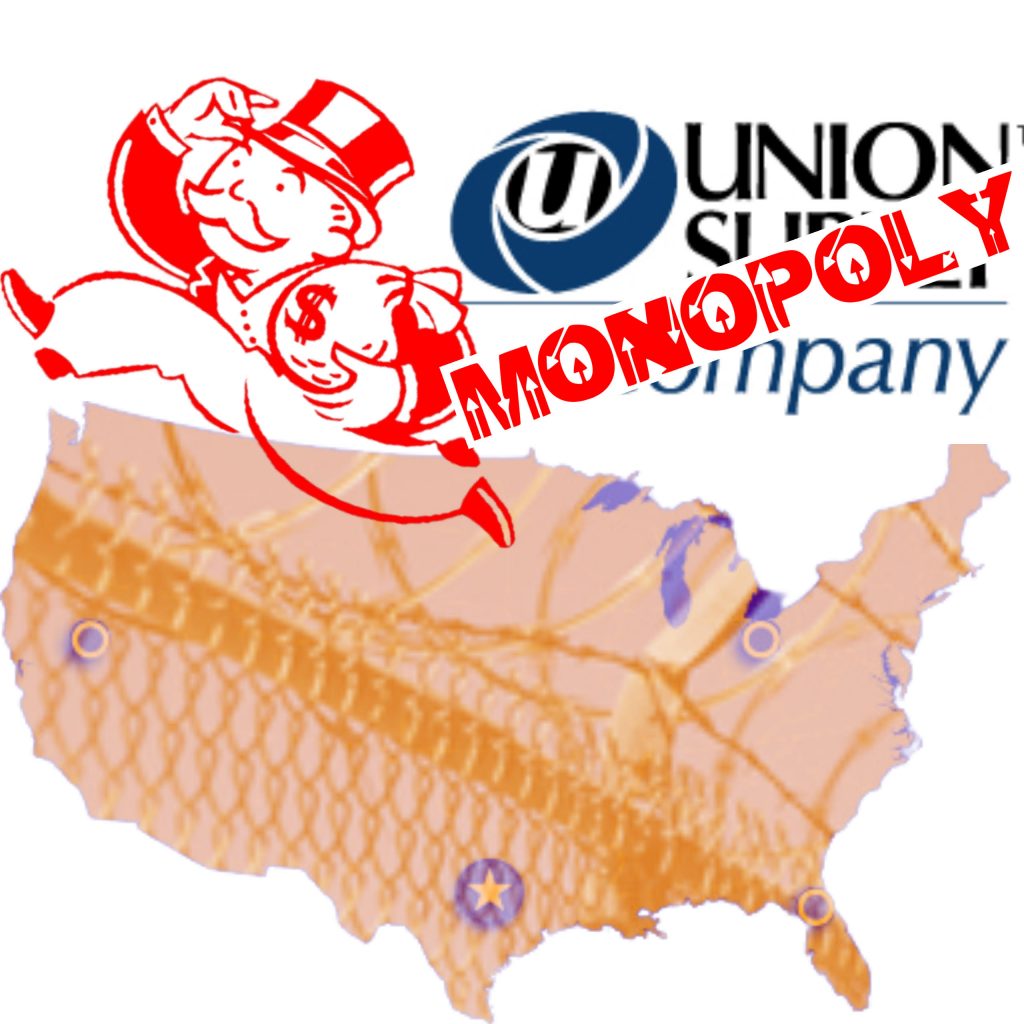 Prisoners are isolated to ordering solely from union supply as a contracted vendor... I'm under the impression it violates the consumers protection act where we are to have price competitiveness and is at contrast with the reasons the doc initially cited as their reasons to start the four original vendors contracts in 2007 or so, which included wider selection and "price competitiveness". Please advise … and stop this unjust overtaxing of loved ones and prisoners hard earnings especially where union charges way more than others, takes three times the wait to deliver and puts families on hold hours to place orders. Also, where prisoners earn 5¢ per hour and doc takes 50% of hat 5¢ for restitution even hough courts imposed 25% and hen turn around and take another 10% for release accounts. Who is criminal in his situation?!!
—Jose Soto #307830, prisoner at Waupun Correctional Institution
The Wisconsin DOC is working towards only allowing one vendor to provide essentials to their captives: Union Supply. There's a whole host of issues that come along with this, not least of which being that monopolies are historically price-gougers and unreliable, because there is no competition, so they can proceed however they want and do whatever maximizes profits, disregarding the needs and rights of the people they're doing business with.
Currently, there are two companies—JL Marcus Wisconsin and Union Supply—that prisoners and their friends & families are allowed to order their essentials through. Most notably, these companies are the only way to get stamps into prisons. If you've ever communicated with someone who is incarcerated, you learn quickly that stamps are very valuable inside, as phone calls are often expensive and many do not have access to a tablet or the kiosk to be able to send emails. In addition, stamps provide prisoners one of the only methods of communicating with the outside world that is unmonitored. Sending private love notes, sending out a complaint about a guard or policy without fear of immediate retaliation, or even just wanting a little bit of privacy for once can only be accomplished with a stamped envelope.
After the dissolution of the contract with JL Marcus, Union Supply will be the only vendor sending these items into prisons. They'll have a total monopoly on many of the services prisoners depend on.
This company is already very hard to work with. Some of the experiences that I and other people who do prisoner support work have had with them are beyond frustrating, and often without resolution. And this is all while they have competition. I can't imagine what it will be like once they have complete control over the flow of resources into prisons.
For instance, we are unable to purchase products for multiple prisoners within the same 24 hour period. While this may not seem like much more than an inconvenience, I ask you to consider how I spend many mornings: While going through Corrlinks emails, I purchase any requests I have funds for immediately. This way I am able to send the person I am ordering on behalf of an invoice number via email and let them know that the product they requested (usually stamps or paper or pens) has been ordered. Currently, I am able to do this through JL Marcus. They have their own issues, but at least I am able to meet people's needs relatively quickly and without disruption to the process.
When I use Union Supply for this, sometimes, I get emails saying I have to call and verify that I am in fact purchasing things for multiple incarcerated people in Wisconsin. Not only is this frustrating, but oftentimes, I am unable to actually get them on the phone. As of right now, I have six pending orders that I have been unable to resolve, despite sitting on hold for a total of about seven hours over the course of a week. The founder of FFUP (prisonforum.org) and I have tried on several occasions to get the contact information of someone who could put through our orders once we email them to verify that we placed the orders, but they are unwilling to allow us this as a possibility. After that experience, I decided to place the orders again, using JL Marcus instead. I intended to avoid the situation going forward by only using JL Marcus, but in a few short months, this will not be an option.
When we're forced to use Union Supply, not only will prices go up, but holds on our accounts will likely accumulate quickly, and with their terrible customer service, the number of holds will likely continue to grow, leaving people to go without the things they need to survive and/or keep sane.
Rising costs will also have a potentially devastating impact on prisoners, as many people order things for themselves. Maintaining a decent amount of money while incarcerated is nearly impossible, since the DOC collects fees and places charges on anyone they cite for behavior, which can often be fabricated by unquestioned guards. Beyond this, anytime you give money to a prisoner's account, the Wisconsin DOC is able to take upwards of 35% in an act of pure theft, a remnant of the Walker administration that coward Tony Evers won't undo. Anyone who is incarcerated and has managed to accumulate their own funds is capable of ordering what they need/want, and while the same issues we on the outside face with regard to holds placed on accounts likely won't affect prisoners, the rising costs will absolutely limit their access to these things. In addition to the rising costs affecting prisoners' ability to access products that are essential to maintaining their physical and mental health, these costs also go on to fund the exact organizations that work towards incarcerating them.
As Jose points out, the Wisconsin DOC has been working on reducing the number of vendor resources since 2007. The purpose of this is, to be frank, unclear to me. The hopeful side of me (if you could call it that) wants to think they have a legitimate bureaucratic motivation. The cynical side of me recalls the fact that the DOC receives a 10% kickback from Union Supply. The benign truth is, it's probably somewhere in between these two things. Regardless of the motive, the malignant truth is that this will disrupt prisoners' abilities to receive the resources they need to adequately defend themselves legally (paper, stamps, pens) and increase their quality of life with items that help them deal with the everyday traumas of incarceration (TVs, radios, craft supplies).
[caption id="attachment_246" align="aligncenter" width="358"]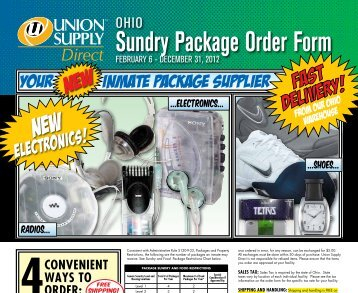 Some overpriced junk.[/caption]
I reached out to the DOC about this recent decision. Though they haven't responded to my questions directly, the responses they have given are telling. The first reply I received came from Wendy Monfils, Budget Director for the DAI:
Thank you for your interest in this matter. I want to assure you this decision was not taken lightly. DOC's decision to move to a single vendor contract was influenced by a number of factors. For example, previous contracts showed evidence that not having specific religious and other property/hobby items available through contracted vendors poses safety and security concerns not to mention an inequity issue. Also a considerable amount of time and resources are spent managing catalogs and orders from multiple sources with multiple shipping/return/handling processes. In addition significant time is spent evaluating products from multiple vendors to ensure policy compliance and safety and security of our institutions, persons in our care and staff.

DOC held a competitive Request for Proposal (RFP) process with the intent to award the Personal Property Items contract to a single vendor. DOC received four proposal responses. Each response was scored by an independent evaluation committee in accordance with established criteria. Union Supply Group was the highest scoring proposer and subsequently received an intent to award. Union Supply will establish a comprehensive catalog containing products of comparable quality and pricing to those offered through all of the current supplier catalogs.
So, what she's effectively saying is that by limiting the number of vendors they don't have the time to evaluate the products from a bunch of different vendors, and then she shifts the blame for the decision to make Union Supply the sole vendor off to the evaluations of an independent committee. I responded, asking what measures they plan to take to ensure that outages, like those that occurred as a result of the Texas power grid went down, don't happen in the future. While Union Supply was unable to provide the "services" they are meant to during this time, we were able to use JL Marcus. If in the future this were to happen again, prisoners in Wisconsin will simply be without.
After pressing the issue, sending multiple follow-up emails, I finally received a response from Kevin Carr. Unfortunately, this was the response I received (note, I have removed my personal information from this image):
[caption id="attachment_245" align="aligncenter" width="555"]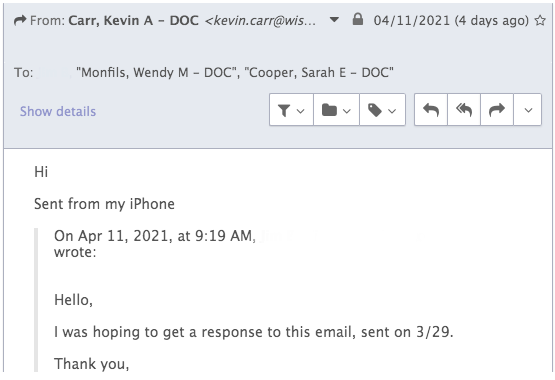 Coy email from Secretary Carr[/caption]
It's unclear whether this was a coy attempt of his to remind me that he is in no way accountable to my concerns or not. But the fact that he has yet to follow up with an apology and an actual response leads me to believe that this is exactly what it is. I have on several occasions received snarky and apathetic responses from Secretary Carr, this is just another I can add to that list.
In formulating my response, determining exactly how "disrespectful" my language or tone should be, I received a much longer email from Sarah Cooper, which I present here in part:
...We understand the climate of the institutions population is impacted by the programs and services we offer. We did formally meet with USG to discuss the issues that happened over a period of time from mid-February to March.

There were a series of events tied to the drop in service for a two to three week period of time from February to early March 2021. USG itself was moving its headquarters from California to Texas which included migrating the data server and infrastructure. Although the vendor validated the system specific to the processing of orders into the system and saw no errors initially, they did find an error on February 18th, 2021 that impacted orders. That error was corrected and orders were processed; errors related to this were cleared up by February 25th, 2021.

There are many steps that are taken to ensure that the services we provide are to the highest standards. For example, procurement process included an independent committee to evaluate the vendor proposals, in the contract language the DOC has the ability to take corrective action if the vendor is not able to meet expectations as outlined, which include, being able to provide the items that are identified through the Hobby/Property policy. To help ensure accuracy, we are also discussing a phone ordering system and increased customer support.

Lastly, as it relates to any quality issues of products received from USG, please encourage people to bring their concerns to the attention of institution staff at the time of receipt. Doing so gives us the necessary data to open dialogue with USG about these types of concerns.

Thank you for your communications and we appreciate your interest in the overall services for the Persons in Our Care.
What's happening here is that Sarah is making a lot of excuses for something that shouldn't be an issue. These outages can and likely will happen again, as we are going to experience more frequent and more severe natural disasters. The simple solution is to "not put all your eggs in one basket," as the saying goes. All of this is to say that beyond the issue of Union Supply having a monopoly on products that Wisconsin prisoners need, their reliability can not be guaranteed.
[caption id="attachment_147" align="aligncenter" width="236"]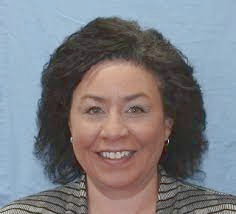 DAI boss Sarah Cooper[/caption]
Since my communication with DOC administrators, I have also received further information from prisoners in Wisconsin. This email was sent to me from Devin Brown, a prisoner at Oshkosh CI:
The following will be a letter/message verbatim from Jack L. Marcus ( A Property and Hobby vendor).

To: [redacted] < [redacted]@jacklmarcus.com >
Date: Friday April 16, 2021 2:16pm
From: [redacted] < [redacted]@jacklmarcus.com >
Subject: Letter for reaching out to Milwaukee office

Dear Customers:

We need your help. If you do nothing, you will be forced to order all hobby, food and property items from ONLY Union Supply after September 30th. The State of Wisconsin DOC will not allow you to order from Jack L.Marcus after September 30th. This would also end in-person ordering. If you are not satisfied with prices, products or services from Union Supply, you will not have another option. Midtown Milwaukee has relied on Jack L. Marcus for good service, fair prices, jobs and opportunity for over 30 years. Eliminating competition is never good for customers. One choice is no choice!

If you are as concerned as we are about this decision, please call Governor Evers' office in Milwaukee and tell him to reverse their decision. Let him know that you want more than one choice and that you value having Jack L Marcus part of your community. Every call will help. 414-227-4344. Please also email Nadiyah Groves in Governor Evers office. Her email is Nadiya.groves@wisconsin.gov.

Thank you for your continued support! Remember ONE CHOICE IS NO CHOICE!
Stopping this monopolization and removal of JL Marcus as an option for prisoners and their friends and families is both important and possible. In addition to the contacts shared with Mr Brown in the above email, please contact Wisconsin Department of Adult Institutions Supervisor Sarah Cooper (sarah.cooper @ wisconsin . gov). Let her know that this is an unacceptable infringement on prisoner's consumer rights, and that it is clearly unethical to limit their resources even further.